Air Return Grills can rust and deteriorate over time. They are visible to the customer and a lot of upkeep for store owners. When you need replacement Air Return Grills you can rely upon CaseTrim.com to provide you with quality and strength.
Our Return Air Grills come in designs to fit most manufacture style cases including D5E, D5L, P2, M5, PWR and P2X. Whether you need 1 or a 100 – we stock Air Return Grills for Hussmann, Kysor Warren, Tyler and Hill Phoenix type cases.
Call or e-mail us today and we will assist you in selecting the correct Air Return Grill for your supermarket refrigeration case.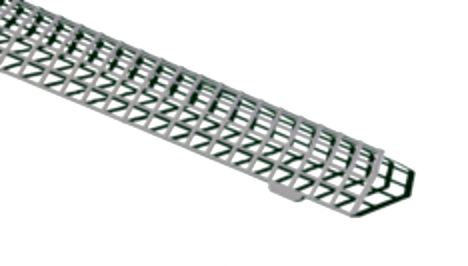 2Ft. Return Air Grill
$24.95 per piece
For Use On:
D5, P2, M5 and PWR
Part Number
RAG-BLK-2 (Black)
(HUSSMANN #420005)
RAG-WHT-2 (White)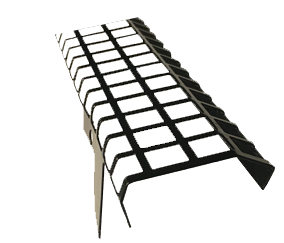 2Ft. Return Air Grill
$24.95 per piece
New Style P2X
Part Number
RAG-P2X-BLK-2 (Black)
(HUSSMANN #501976W)
RAG-P2X-WHT-2 (White)
(HUSSMANN #479143)

Our honeycomb is made of unique materials that will deter corrosion and mold. Keeping it simple, we custom cut honeycomb to your specifications. Easy to install and affordable to replace, call or e-mail us today and let us assist you with selecting the correct honeycomb for replacement.
PP polypropylene honeycomb core exhibits a unique cell structure. The core has 3 orientations vs. the 2 orientations common with other honeycomb, making its properties more uniform. Each cell has a tubular form and is inherently stable.
Our honeycomb is supplied with or without a non-woven polyester veil for better bonding. It is also supplied with or without a film barrier under the polyester veil to limit the amount of resin consumption.
High strength to weight ratio
Corrosion, fungi, rot, chemical and moisture resistant
Sound and vibration dampening
Energy absorbing
Thermoformable
Temperature use to 180°F
Recyclable
Available in the following standard dimensions.
Thickness: .25" - 24.0"
Densities: 3.5 pcf - 20.0 pcf
Sheet Length: up to 50'
Sheet Width: 72" max
Call for more specifications, pricing, and shipping.
Supermarket refrigeration case kick-plates often get damaged by floor jacks and buffers. Kick-plates keep your under cases clean and customers safe. Our refrigeration case kick-plates come in a variety of styles for most Hussmann, Kysor Warren, Tyler and Hill Phoenix type cases.
We custom make replacement kick-plates to your size and color.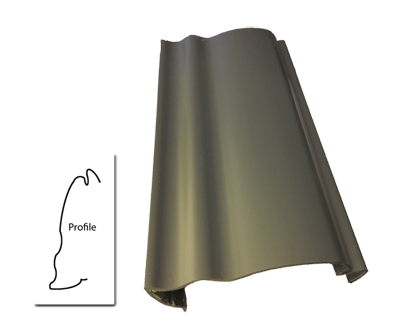 The Night Blind is made of a unique patented woven aluminum fabric design provides superior thermal performance, at the same time resisting bacteria and bio-film development, resulting in significantly less damaging mold buildup. This will save you money on both cleaning costs and untimely product replacement.
The Night Blinds are easy to install, and are available with strong magnets, meaning no need for screws. Magnets also attach to the bottom of the cases when the blinds are extended.
Replacement thermometers for Supermarket Refrigeration Cases.
We offer CW-02 Solar Digital thermometers, call for pricing.